Category Archives:
Education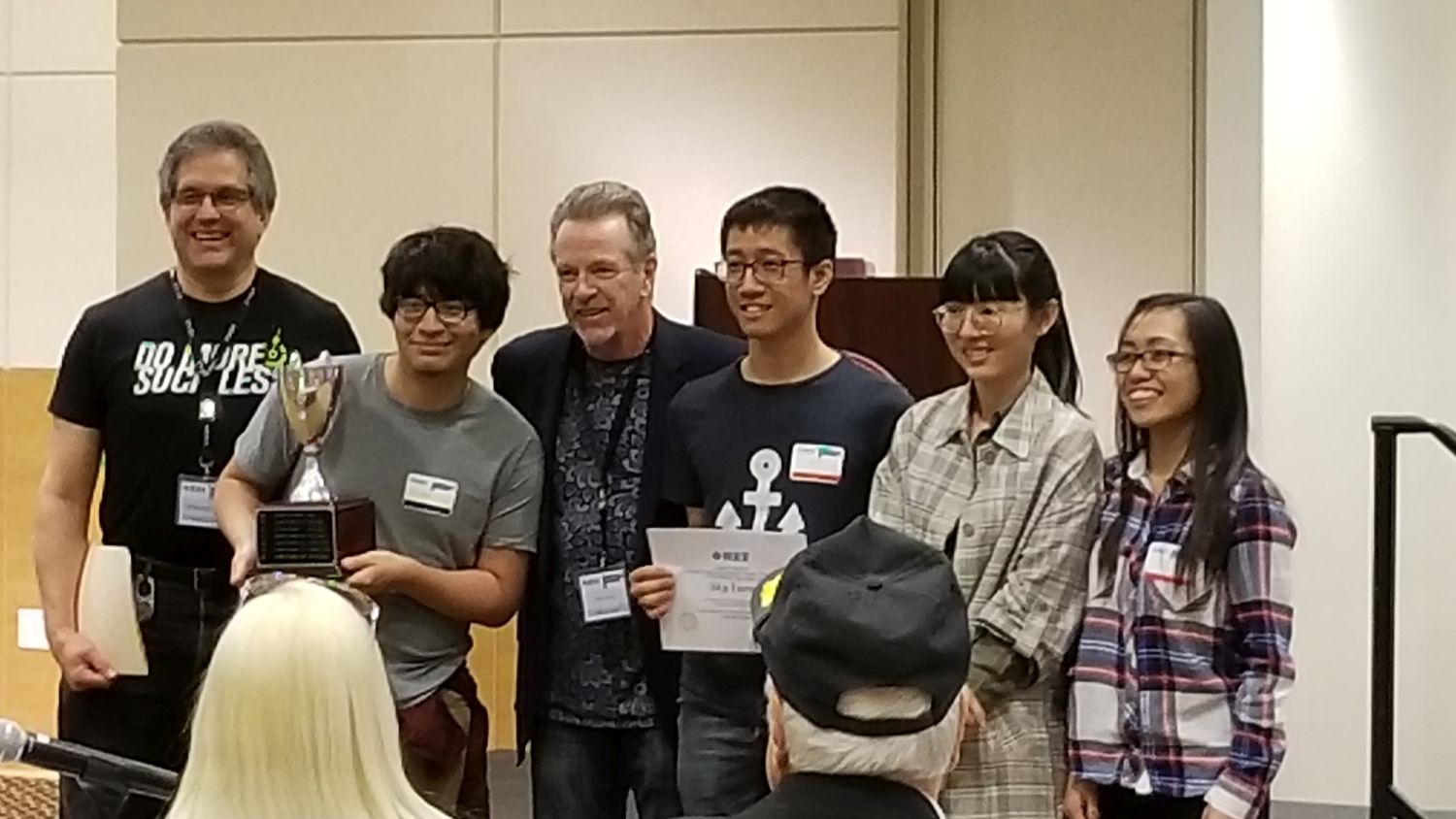 Once again, a student-based game development team from UCI has been declared the winner of the annual IEEE GameSIG game development competition; that's them in the main image. The competition, held every year and featuring games developed by student teams from multiple regional colleges and universities including UCI, Fullerton, Chapman, Cal State Long Beach, USC, and others, brings a narrowed-down field of ten finalists from this year's original field of twenty; these ten games were the ones the review and selection committee, of which yours truly, meaning me, is a member, felt were the cream of a very rich crop. Yet even with all that fierce competition, UCI won, and in fact has won for the last seven years straight. It's held at a different campus every year, each hosting the competition on a rotating schedule, but no matter where it's held, UCI always brings home the trophy. I'm co-Chair of the reviewer committee along with professor Dan Frost who has been doing it since the beginning but recently retired, and one of the organizers, so I'll have my work cut out for me next year as the 2019 competition will be held at UCI.
The final award winners, their respective institutions, and the awards they won for this year were:
Sky Farm
(UCI) – First place and Showcase Cup
Reinvent the Wheel
(Cal State Long Beach) – Second place and People's Choice Award (voted on by the audience)
Residuum
(Santa Ana College) – ACM Award for its simulation of a human ecosystem
RGB
(Chapman) – Technical Achievement Award
Judging was done by industry veterans, including one of the original
Blue Sky Rangers
and CEO of
Quicksilver Software
, Bill Fischer, who is also the GameSIG chair (that's him on the left of the header image). Each team had five minutes to present and five minutes for questions and answers, which could sometimes be challenging. Although I am very pleased that UCI was victorious (and that a friendly rivalry has now started between us and Chapman; they're gunning for us next year for sure), all the games submitted were absolutely fantastic. In fact, the audience was allowed to vote for the People's Choice award, and even I voted for Reinvent the Wheel. I wasn't a judge, obviously, and although I really did feel that Sky Farm was the most polished, complete, and visually stunning game, I felt that Reinvent the Wheel is a game I would actually 
play
more often. All you do is form a boulder, push it down a hill, and see how far it goes, but trying to get that last little bit of distance is a surprising carrot that keeps people coming back. Even the name is clever. Screens from both are below.
Note that in reinvent the wheel, you're trying to mow down others on the high-score list.
Other games were just as remarkable: RGB, a massive game featuring three characters with varying abilities that can be switched between at any time, and SuperNova, a VR rhythm game, were both built by a team of only one. And Hive Armada, another VR game, had setting for
color blindness
, something I rarely see in games today, yet should be present in all of them.
A very fun time, everyone enjoyed themselves, it was my first major visit to Chapman University which is beautiful and the whole surrounding town has a real charm to it, just a wonderful day overall. Now the planning begins for next year, and as mentioned it will be held here at UCI and Chapman is rightfully and understandably gunning for us. I can't wait!
——
If you are interested in participating in next year's competition, please contact me and I will fill you in on all the details. Keep in mind that everyone who participates in the development of the game must be a student at time of development, and although team members can be from any school around the world, the team must be majority represented by one of the participating schools.