The new Samsung Galaxy S8+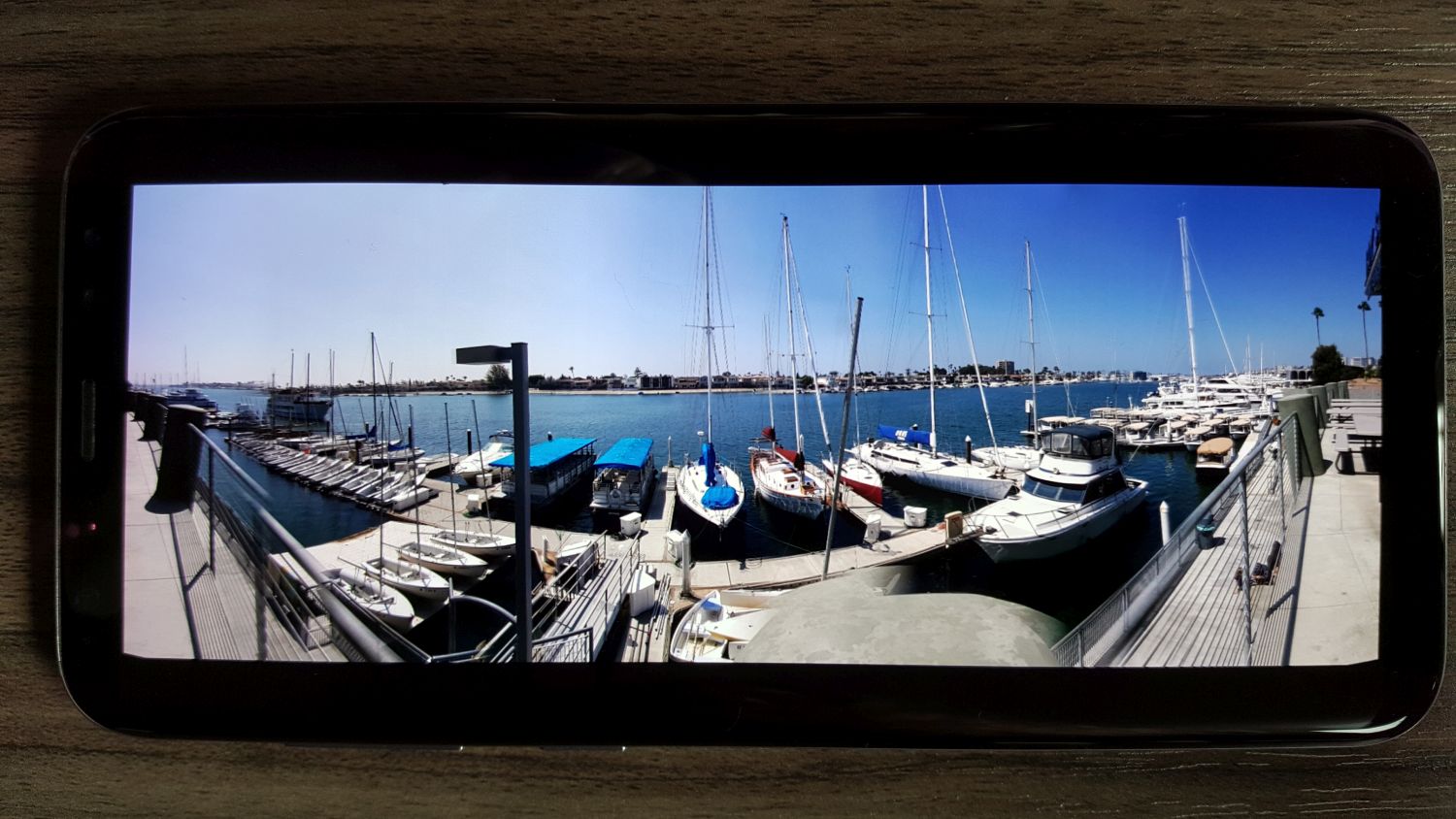 I've been using my new Samsung Galaxy 8+ for a few weeks now, and must say I like it. It has a slew of new features such as the occasionally functional face-recognition method of login, which according to Samsung I should not use if I have a twin, and I end up using the login PIN about half the time anyway, since wearing sunglasses, being in bright/low light, having your head at a different angle than what the phone expects, or wearing a Freddy Kreuger mask all seem to interfere with its accuracy. It also eschews the previous models' physical home button for an on-screen equivalent, which can sometimes get lost in app overlays, and the back button rotates with the orientation of the phone which means it sometimes points up, not back. Plus it no longer comes in glorious gold, but I did get a neat metallic grey-blue.
The metallic blue branding on the box let me know I was in for something special. I wasn't such a big fan of the quick start card telling me to follow the instructions on the phone, which in turn told me to follow the instructions on the card. I was almost stuck in an infinite loop.
Even with those caveats, it's a great phone. It comes standard with 64GB of internal storage, however I popped in a 256GB MicroSD and have enough storage for everything. While other Galaxy's supported this, my previous S5 did not and I ran out of space almost immediately, which caused repeated battles with those pesky storage demons for months on end. On the front, the S8+ is adorned with a magnificent 6.2 inch AMOLED screen that wraps around the edges, an 'Infinity Screen' as Samsung brands it, and you can slide in panels from the edge that house frequently-used apps. I never do that, but you can.
In the US, the phone runs on an 8-core Qualcomm Snapdragon at 2.35 GHz, which is powerful but on-par with competitors. International markets get Samsung's own 8-core, ARM-based Exynos processor running at the same speed. Both are plenty fast and more than capable for most mobile applications, especially with 4GB of RAM packed in alongside. I was hoping to use Qualcomm's own Vellamo benchmarking suite to put it through its paces, however it was nowhere to be found, so I fell back on the stalwart and well-established GeekBench 4, which provided a comparatively average single-score of 1830, but a scorching, second-place multi-core score of 6032, placing it only behind Huawei Honor V9. I should also mention that the scores earned by the phone are much higher than what they are reporting for the S8+ on their site.
(It needs to be mentioned as a warning that I also intended to use the well-known and oft-utilized AnTuTu mobile benchmark, however on boot it insisted I download an additional 'phone verification app' and even loaded the Play store to do so. I don't know why it would require that, I've never heard of such a thing, it sounded very fishy, and the reviews of it were foreboding. Therefore, although I like AnTuTu generally, I must recommend that you not use it for mobile bench marking purposes.)
I was also quite pleased at the 3500 milliamp battery life: Using Google Maps for navigation, after an hour of use my battery power was still in the high 80 percentile, whereas the Galaxy S5 would have been long dead by then. Speaking of which, it also supports Qi wireless charging, however be aware that is a misnomer: While you can rest the phone in a dock and have it charge thanks to two coils in the back, the dock itself still has to be plugged in. It doesn't just magically charge from the air, although I am still waiting for that feature. The 12-megapixel rear camera takes stunning photos, and you can even elect to have them stored in RAW format. May as well, you'll have the room. I don't use the front camera except for the once-in-a-blue-moon mobile Skype call, so I can't comment in any meaningful way on its quality, however it's an 8 megapixel component.
In the first image below, taken at a mid-level setting and moving at ~70 miles an hour, the wind farm comes out quite clear with separation among colors from the rich blue at the top to the white of the mills in the center (even considering the haze that muddies the contrast along the horizontal center) and the darker colors of the earth and road at the bottom. Minimal blur with good color even at speed. Below that, a few pictures from my trip to Monsterpalooza in Anaheim, and even in low light conditions there is still sharp contrast and detail, except when an area of the image was in competition from multiple light sources as can be seen in the sign to the right of Frankenstein.
Another aspect of the phone I really appreciate this time around is when a known or suspected scam call comes in, the phone displays the contact name either as 'Potential Fraud' or 'Potential Spam.' I don't know what the difference is, and like to think I could guess it anyway, but there have been no false positives or missed calls because of it so far. Also note the beautiful 1080P screenshots the phone takes.
I've been very happy with it so far. I haven't had the chance to run it though its paces save for some movie streaming from my Plex server, which worked flawlessly, and with everything else it hasn't hiccuped, stuttered, or frozen up yet. It doesn't even get as hot. I'm still not thrilled about the lack of a physical home button, and once I transfer over all 13,672 files in my music library and see how it handles that in terms of performance and usability I'll have a better idea of its overall capabilities. They're also sending a complementary GearVR version 3, but every two weeks they inform me it will take six to eight weeks so I don't know when it will get here, but with the S8's USB type C connector, it won't work with my old version 1, but I'll update as soon as I can put it through it's VR paces too.