Converting vintage toys into their modern tech equivalents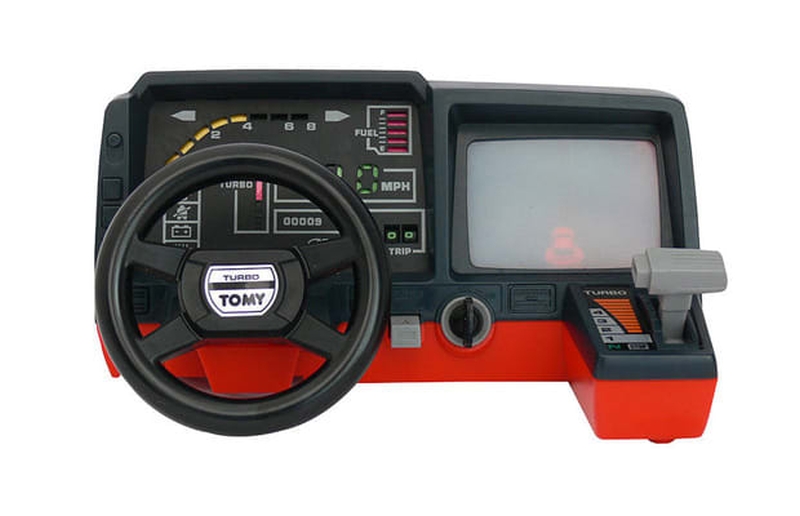 I'm not comfortable referring to toys I played with as a kid as vintage, but they are, and what this person does with them is quite inventive. His Nom de Plume is Circuitbeard, and among other things, he converts vintage toys into modern ones, while modifying as little of the original item as possible.
The one that prompted me to write this post is his updating of a classic mechanical driving game – in this case a Tomy Turnin' Turbo Dashboard game – to instead be a fully functioning, self-contained, OutRun arcade game.
Before we get to that, the original Tomy game was quite an accomplishment in itself. Released around 1983, everything about it was mechanical, from the revs to the fuel gauge to the fake-but-passable digital speedometer. The driving is secondary, really, since there isn't much to it other than keeping the car in the center of the road via your manual steering and not veering to the side nor crash into the exact same car that kept appearing since the road is really just a looping image. Even if you did, nothing much happened, and remember this isn't a video game, it's all mechanical.
It's a hard thing to explain, so here's a video that shows how the original looked:
The electronic magician Circuitbeard, on the other hand, took this device and turned it into the game it always wanted to be. Just like Pinnochio always wanting to be a real boy, this game always wanted to play OutRun. The details of how he did it, which are long and impressive, including custom printed PCBs, a custom, laser-cut dashboard, and LEDs that actually represent what's going on in the game, can be read over at his blog post and I very strongly encourage you to do so. Not simply to experience the monumental creative and technical feat he accomplished, but to see the other vintage toys he has converted. It's all very masterful, and fascinating.
I'm sure what everyone wants to know is how did it turn out (but don't skip the details. Seriously!). Here is the video of the final result, and to add to the above paragraph it involved some custom libraries, bespoke 3D-printed parts, multiple controllers; it is not hyperbole to say it may be one of the most brilliant electronics projects I've ever seen. He has others, by the way, which are equally as magnificent.
Here's the video of the final result, and don't be deceived into thinking this was a simple project. Read his post!