Microsoft turns 40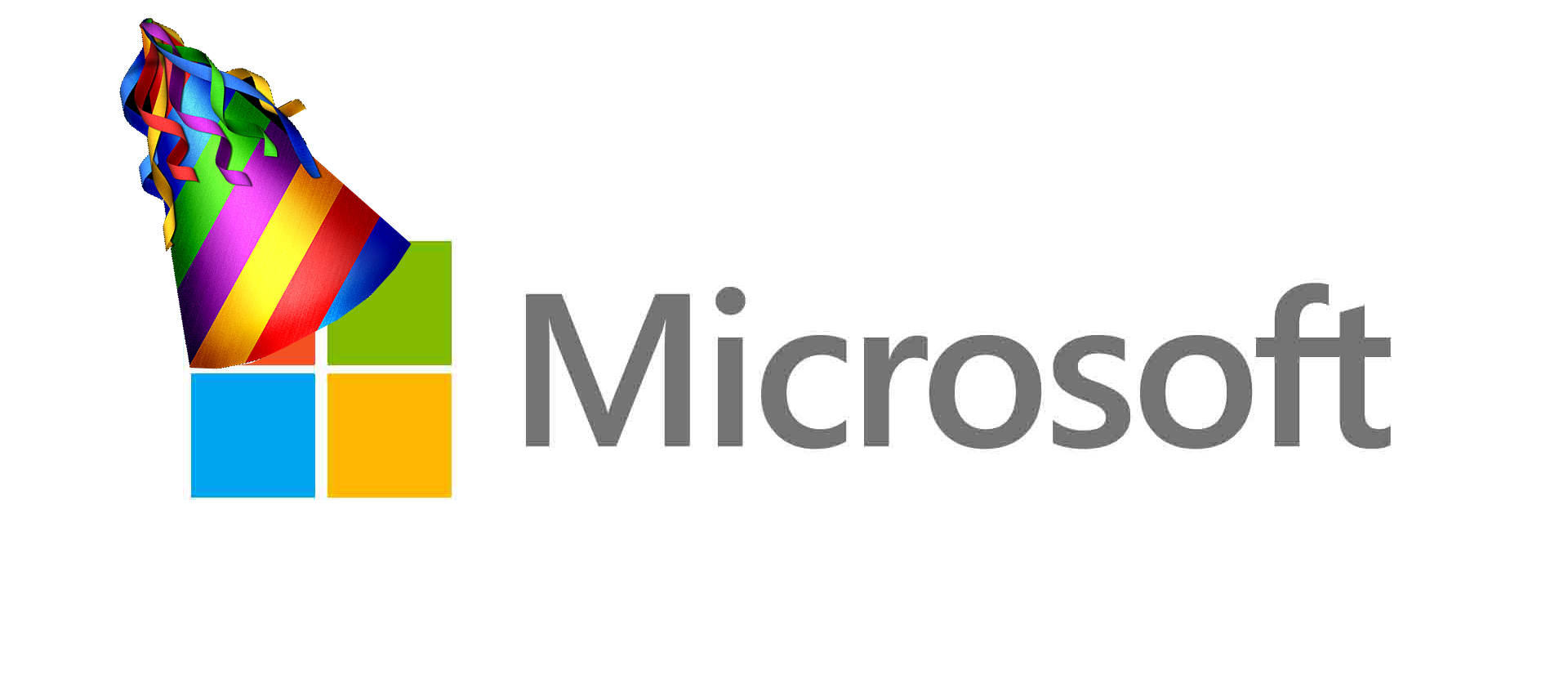 This post is going to (try, at least) look in to the future, but also take a very interesting look into the past.
In looking ahead, I was surprised to find out that Microsoft turned 40 last weekend. *I'm* older than they are! But it's no small feat considering the derelict companies and products that waft idly at the bottom of the sea of good ideas and potential. CP/M, Northstar, WordPerfect (which apparently still exists), TRS-80, these and many more just couldn't survive the turbulent tech ocean, especially during the beginning of the industry. None of these products were bad, mind you, in fact all of them had distinct advantages when compared to their competitors, but the fact is very few of what was there in the beginning is still there now. 
Microsoft is one of those companies, and no one would deny that they were very much at the right place at the right time with the right set of circumstances. They parlayed that good luck into one of the most powerful tech companies in the world, if not the most valuable. and many of its founding members are among the richest people in the world. While not always operating on the up and up, they persevered from their early days in New Mexico and are now finding themselves in a very strong position. Even so, Let's not forget the very recent layoffs that happened at the company either.
Regardless, they are one of a handful of companies still in existence from the very early days of the consumer tech industry, and one of only two I can think of, the other being IBM, that were never under any real risk of disappearing altogether.
I don't need to to turn this into a history of Microsoft, although it is interesting to discover, but they now find themselves in a much more precarious competitive environment. There is generally good consensus about Windows 10, HoloLens, Azure, and their other products, and that's important since they are no longer the dominant behemoth they once were.
All that being said, I thought I would reprint the letter Bill Gates sent to all employees in light of this anniversary. He's mellowed in his old age, setting up one of the most philanthropic organizations out there, and given away billions in aid. This letter shows his continuing foresight, which was evident all the way back when he turned the Microsoft behemoth towards the importance of the Internet 20 years ago.
Here's the letter, but before you read it I encourage you to read this article from a July 1982 edition of The Atlantic, titled "Living With a Computer," that tells us what computer will bring, do and mean. I wonder what the author thinks of that article now.
Tomorrow is a special day: Microsoft's 40th anniversary.

Early on, Paul Allen and I set the goal of a computer on every desk and in every home. It was a bold idea and a lot of people thought we were out of our minds to imagine it was possible. It is amazing to think about how far computing has come since then, and we can all be proud of the role Microsoft played in that revolution.

Today though, I am thinking much more about Microsoft's future than its past. I believe computing will evolve faster in the next 10 years than it ever has before. We already live in a multi-platform world, and computing will become even more pervasive. We are nearing the point where computers and robots will be able to see, move, and interact naturally, unlocking many new applications and empowering people even more.

Under Satya's leadership, Microsoft is better positioned than ever to lead these advances. We have the resources to drive and solve tough problems. We are engaged in every facet of modern computing and have the deepest commitment to research in the industry. In my role as technical advisor to Satya, I get to join product reviews and am impressed by the vision and talent I see. The result is evident in products like Cortana, Skype Translator, and HoloLens — and those are just a few of the many innovations that are on the way.

In the coming years, Microsoft has the opportunity to reach even more people and organizations around the world. Technology is still out of reach for many people, because it is complex or expensive, or they simply do not have access. So I hope you will think about what you can do to make the power of technology accessible to everyone, to connect people to each other, and make personal computing available everywhere even as the very notion of what a PC delivers makes its way into all devices.

We have accomplished a lot together during our first 40 years and empowered countless businesses and people to realize their full potential. But what matters most now is what we do next. Thank you for helping make Microsoft a fantastic company now and for decades to come.