Bing, HTML5, and Microsoft Office free to students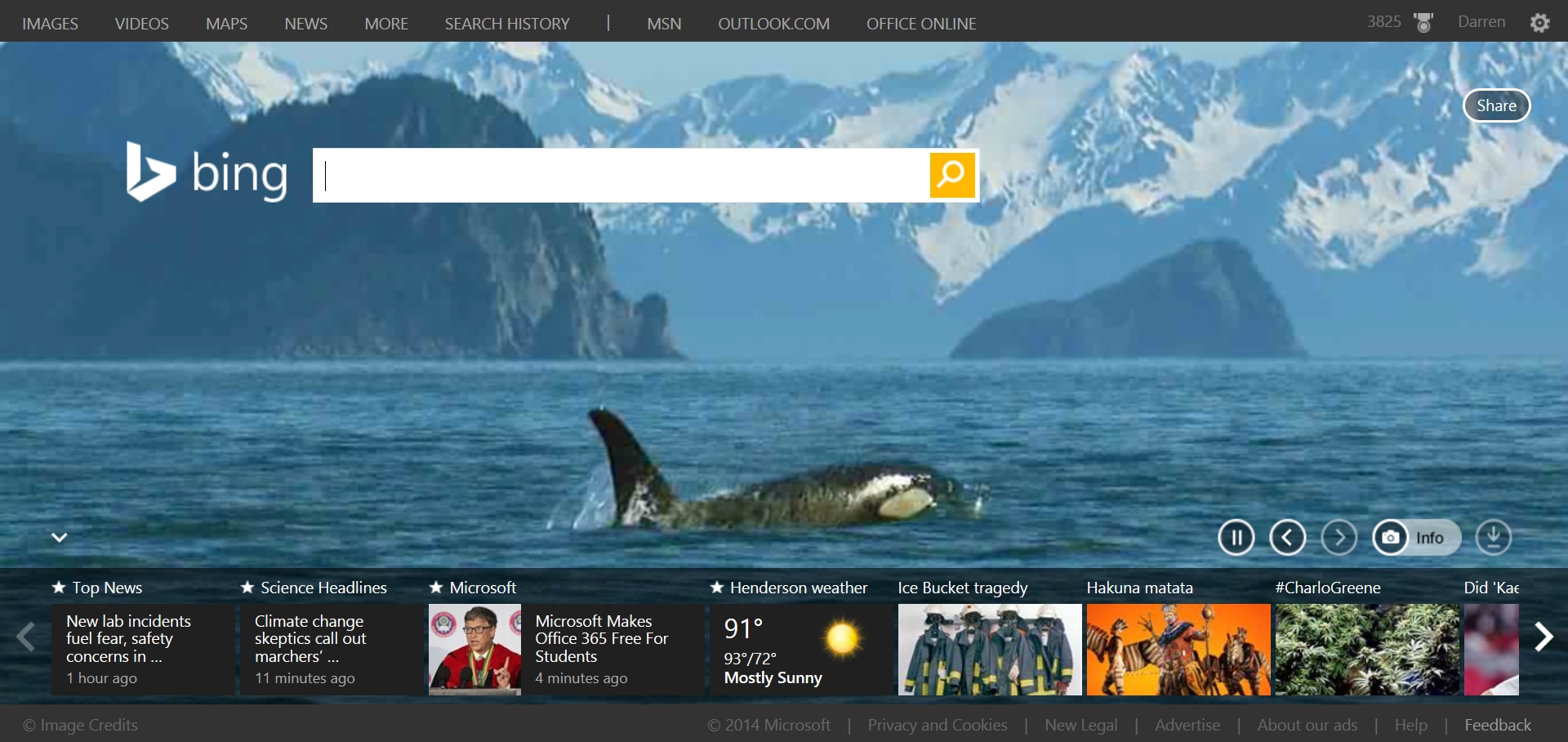 As anyone who knows me knows, I'm a fan, perhaps the only fan, of Microsoft's Bing search engine. One of the things I really like about it, which has nothing to do with search, is their use of very nice imagery on their homepage. That was enhanced a couple years ago with their occasional use of HTML5-enhanced backgrounds which provide animation and make the page more dynamic.
Today (Monday) is one of their best, an animated background featuring an Orca swimming off the coast of Alaska, and it loops perfectly; that's a still of it in the header image, but it is worth seeing in all its splendor. If you are reading this after Monday it will have a new image, however you can still see this one by going to Bing and clicking on the left arrow located in the lower right-hand corner of the page – that will let you scroll through the last week's images and animations (I've circled the arrow in the image below).
I mentioned the homepage on the Twitter feed, but since it only has three followers I thought I'd show it here as well.
It was also on this very page that I learned of some exciting and important news that will impact all of you and give you access to some of the most important software that exists today: Microsoft is making Office 365 free for students, AND they're even throwing in 1 terabyte (TERABYTE!) of storage space on OneDrive, their cloud-storage platform.
Here's the problem; In testing it, I could only get it to recognize my school address if I used the old 'nevada.nsc.edu' extension, as it wouldn't work with the newly-adopted 'nsc.edu' without the 'nevada' attached. The problem is that older extension was dropped by NSC (at least for faculty, I'm uncertain about students), and since it no longer works you wouldn't be able to get the confirmation message allowing you to sign up.
This is such a good deal I'd try it anyway if I were you, and if it doesn't work contact OIT and ask them if there's something you, or more likely they, can do. It's a great deal.